Decor Manzil's definitive guide on buying rugs and carpets
From buying a quality rug or carpet that aligns with your space and décor scheme to preserving its sanctity and helping it look evergreen for years together, there's a lot to know.  In this guide you will find valuable information about what makes a quality rug or carpet, the different styles of fibres, the names of weaves, advice on buying a rug that works for your space, and ultimately a few cool tips on rug and carpet maintenance and care.
It doesn't end there though. We decided to get you a few expert tips from the pros too and have on board, Chirine Maktabi, Co-Owner Iwan Maktabi, makers of fine antique, oriental and contemporary carpets from Lebanon.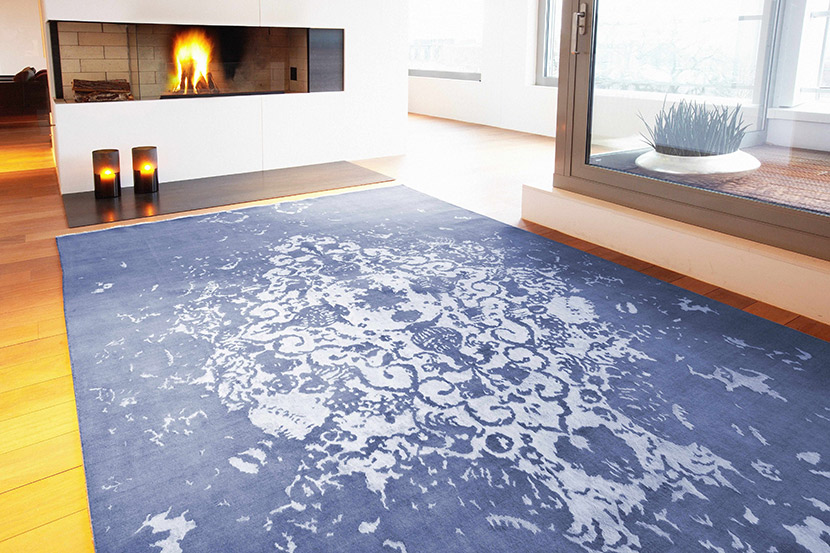 Before you begin your hunt, know the hallmarks of a fine quality carpet, first.
They are:
The shape will be reasonably regular, despite some irregularities in design, given that the carpet or rug is almost always handcrafted.
The fibre or materials used will be lustrous and strong.
Colours will be well-balanced.
The finishing will look professional. It will not appear washed out, faded, unnaturally shiny or too bright.
Above all, it will exude sophistication that comes from being designed by skilled artisans or carpet makers.
Chirine Maktabi's quick tip:
"A valuable antique carpet should be in mint condition, without the hint of damage or repairs on it. If one is looking for a decorative carpet, a fine quality carpet would be with well-balanced components like great design and a harmonious colour scheme. Also it should be finely knotted and composed of quality raw materials."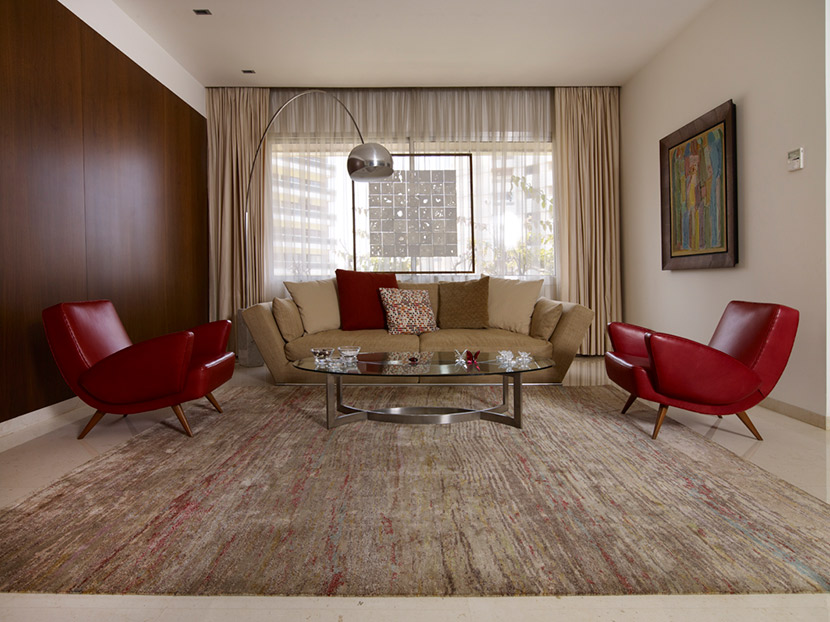 How do you find the right people to buy it from?
This is an extremely pertinent and yet often overlooked aspect when purchasing rugs or carpets. Finding the right dealers can make your purchase worth your while and money and make it a piece truly worth cherishing at home. Most of the best rug and carpet dealers are educators first and they will share all their knowledge and guide you effectively to choose a piece that will work with your preferences and your home.
What parameters do you need to base your purchase on?
The décor scheme of your room: Whether you're looking for patterned carpets or solid coloured rugs, your choice of purchase is dictated enormously by the overall scheme of your room. You may want to make a neutral and subtle space come to life with one statement carpet/rug. For a space that boasts of bright and cheery upholstery or accents, you could consider going with a solid coloured rug. To create a sense of greater space, opt for a lighter tone. If you're looking to make your room cosier, we recommend a dark-toned carpet.
The traffic: Depending on whether your room receives high traffic or less, you can choose accordingly. For high-traffic zones, opt for woolen flat weaves or durable sisal or jute rugs.
The size of your room: The carpet or rug you purchase will have to be determined by the size of your space in question.
The budget: Know that hand-made rugs are more expensive than their machine-produced counterparts. Wool tends to be more expensive than cotton, but will last longer too.
Chirine Maktabi's quick tip
"Follow your instinct when making the purchase. A carpet is the equivalent of a work of art. This is something a person has to fall in love with in order to buy it and place it in his home and look at it every day."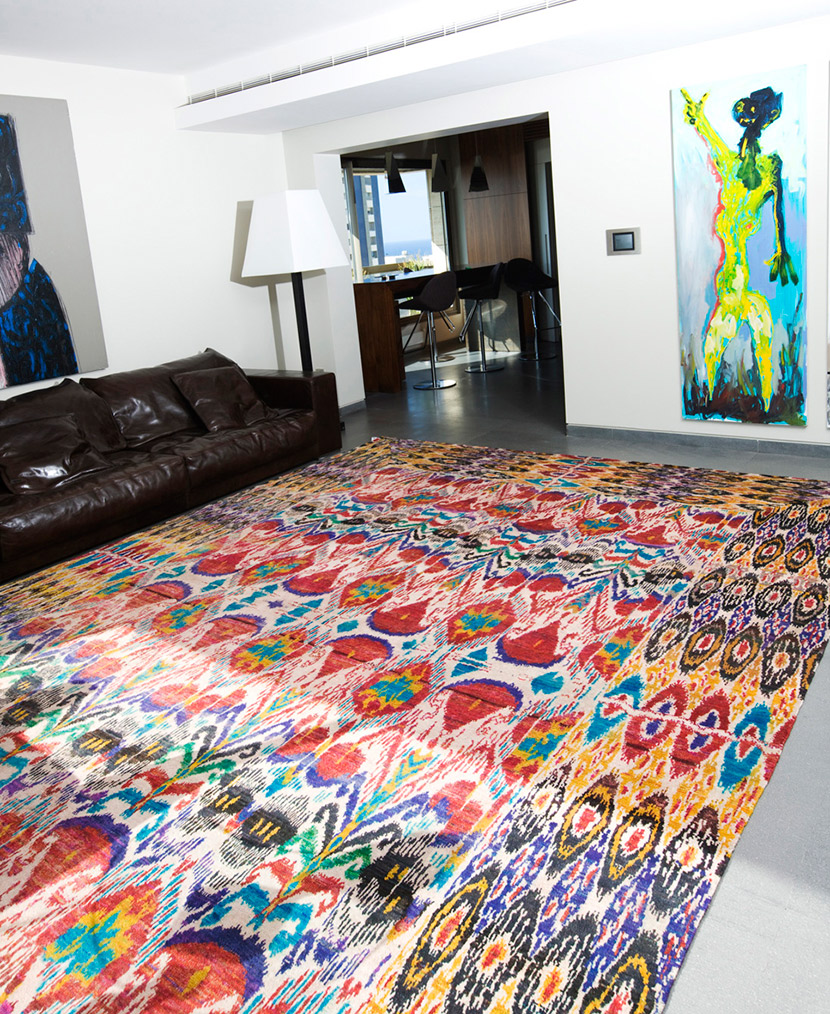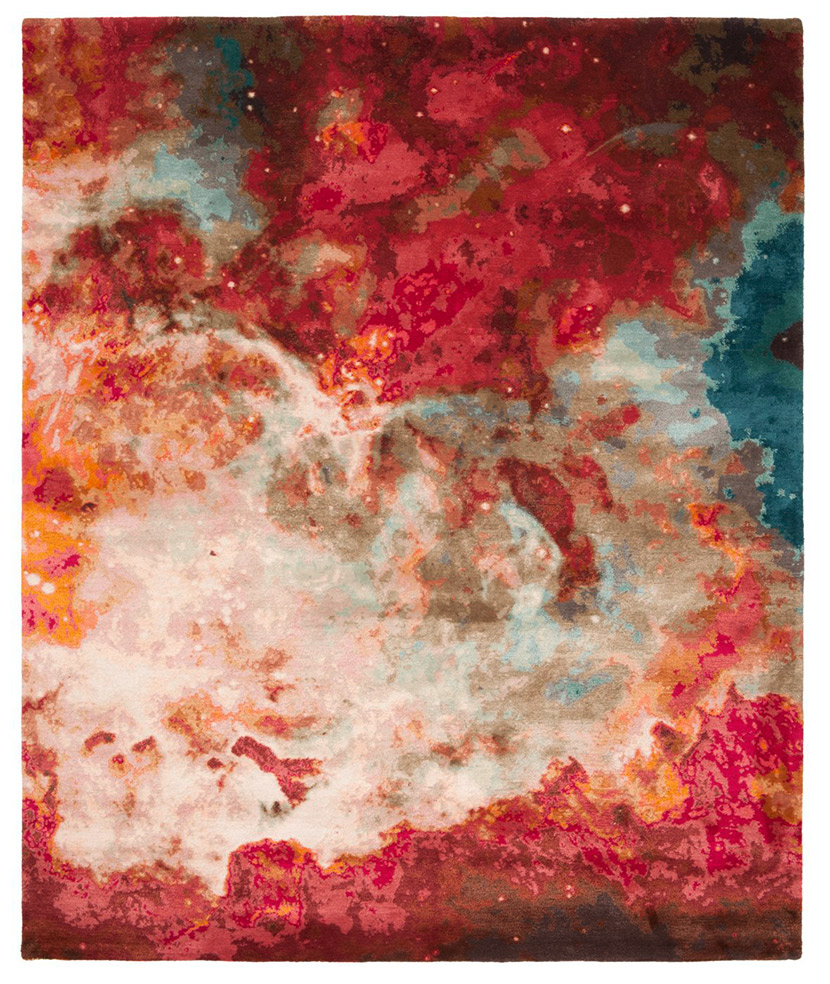 What fibres are popular?
Wool: Wool has been by far, the most favourite choice of material for rug and carpet makers over centuries. Wool is not only durable and ideal for high-traffic areas; it also provides very soft cushioning underfoot. Wool flat weaves in particular are exceedingly sturdy. Opt for professional cleaning to prolong the life and vitality of your carpet. We're recommending wool from the highlands and Kork wool from Iran.
Nettle: Nettle possesses the subtle attributes of silk and is known to grow wild in the remote regions of Nepal. Hand-knotted nettle rugs have strength, durability and resistance similar to that of vegetable silk.
Silk: Silk needs no introduction and is known for being one of the most premium choice of materials for rugs and carpets. Pure silk rugs exhibit reasonable strength and attract premium pricing. Ideal for using as tapestries on the wall or on floors in low-traffic zones like bedrooms. They are not as durable as wool and are prone to damages easily by moisture.
Good to know fact: Be wary of carpet and rug manufacturers who claim 100% authenticity with silk carpets. These could be artificial silk or viscose. With artificial silk or viscose rugs, sellers have a duty to inform you, before you make the purchase.
Cotton: Cotton is a vastly popular fibre for rugs and is relatively inexpensive when compared to wool. Cotton rugs are usually available as flat weaves or braided rugs in a wide assortment of colour options. They lend softness underfoot, however are not as durable as wool. The good thing about cotton is that these rugs can often be machine-washed as well.
Sisal, Jute, sea grass: Being natural fibres, they're all very durable and exhibit strength in high-traffic areas. Sisal is the strongest whereas jute is the softest among the lot. Their textures and large-scale weaves add a lot of character to any room their are placed in. Avoid exposure to moisture for prolonged periods.
Synthetic fibres: These are usually the more affordable options and are made for stain and water resistance. They can feel sufficiently soft on the underfoot and are manufactured for both outdoor and indoor spaces. Common synthetic fibres include nylon, acrylic and polyester.
Everything you need to know about weaves: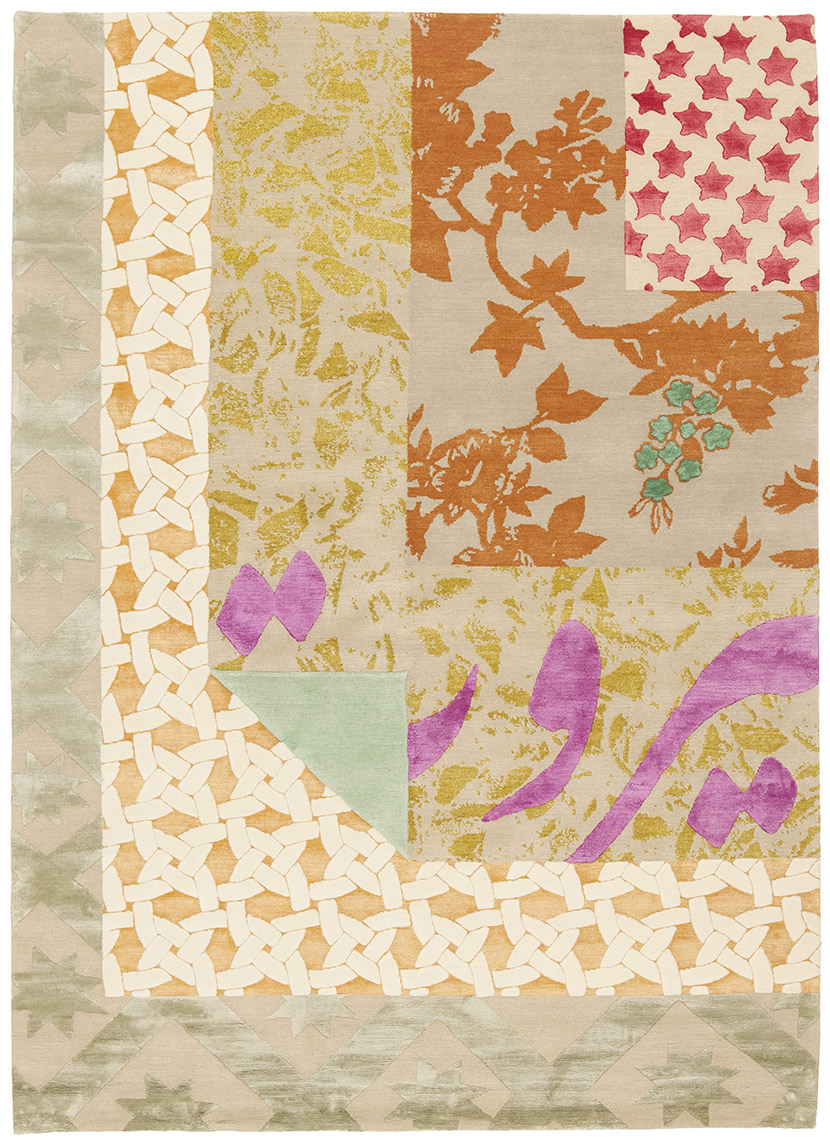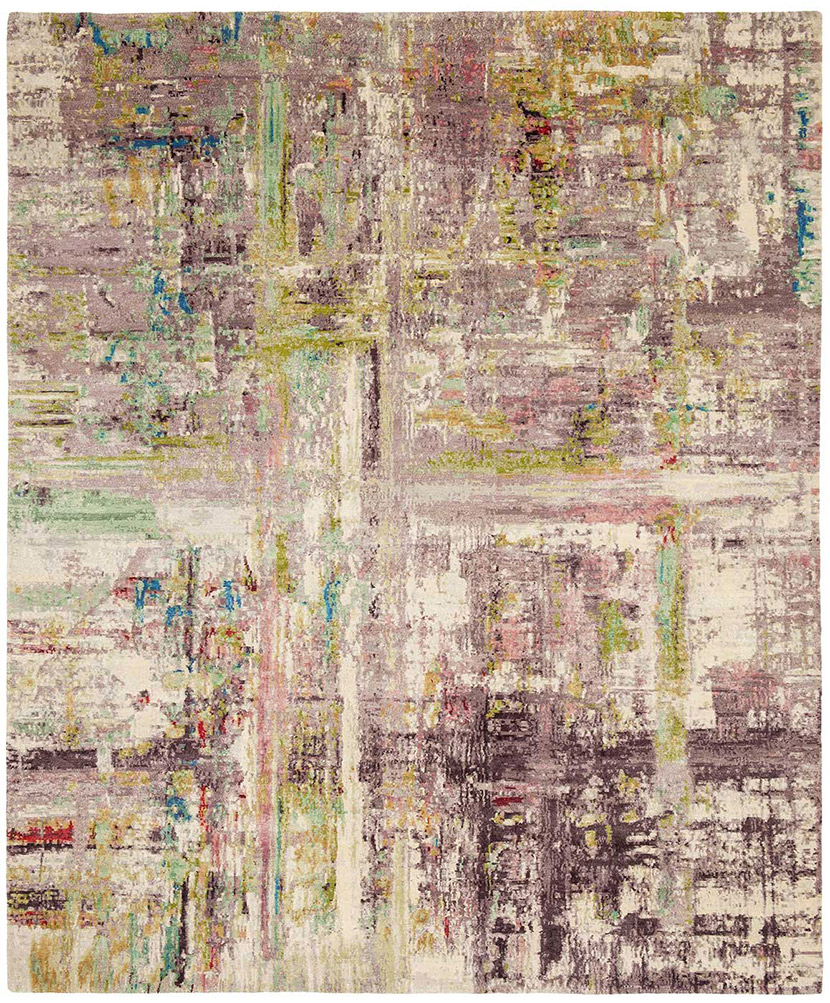 Hand-knotted: The making of the hand-knotted rug is by far the most laborious of  processes when compared with other weaving styles. Always remember: The more knots per square inch, the more valuable and durable the rug will be.
Kilim or flat weave: Flat-weave rugs are usually without piles or knots. They are manufactured on a loom and threaded through warps using the slit-weave technique. Kilims and dhurries are excellent examples of flat weave rugs.
Soumak: Soumak is a combination of flat weave and needle work. It is similar to a flat weave but stronger and thicker than a kilim.
How to measure for your rug:
If you intend to use a rug in a small room and cover most of your floor space with it, then always remember to leave a gap of 20-30 cm from the wall to the carpet on all four sides.
For large rugs in a seating area with sofas and chairs, opt for a size where after you've placed all your furniture on the rug or carpet, there is still around 20-30cm of rug behind each piece of furniture. This lends a look of uniformity and looks aesthetically appealing too.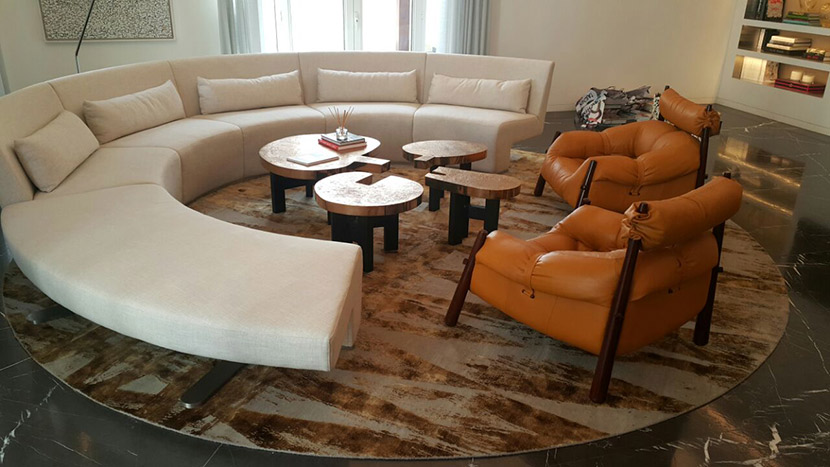 In case you're placing a rug under a dining table, make sure that the rug is wide enough for to accommodate the chairs, even after they've has been pulled out for seating guests at your table. What this means is that the rug needs to be at least, 120 cm wider than the table.
Chirine Maktabi's quick tip
"Usually larger rugs can be used in living rooms or wide entrances where they add warmth and unify the space. Smaller rugs are generally apt for bedrooms and hallways."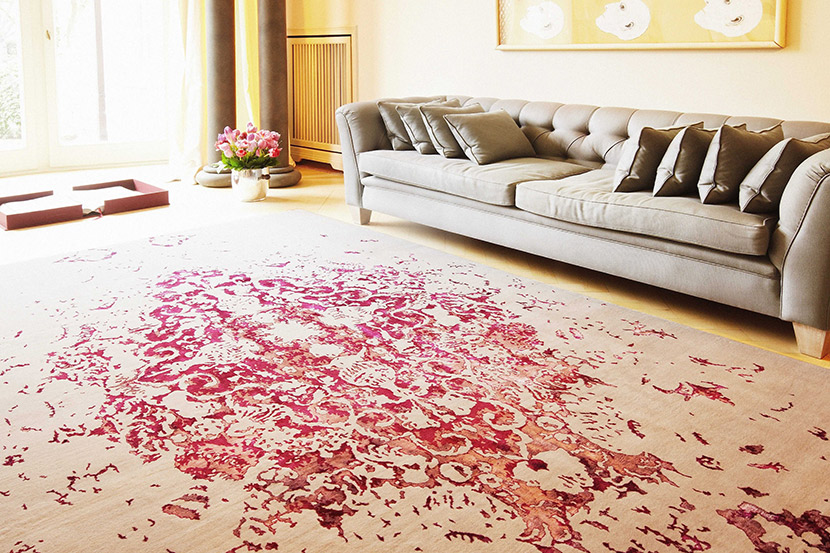 Rug & carpet care
Chirine Maktabi's quick tips
Avoid exposing your rugs and carpets to direct sunlight, water and humidity. They are your rugs' worst enemies.
Direct sunlight tends to change and fade the colours of your carpets.
Make sure to stow carpets away from water especially when you go on vacation.
Ideal if you rolled and store them on a table or a chair and not on the floor.
What's trending today?
The last decade has witnessed a shift towards more contemporary designs. Having said that, traditional carpets are still being sought out by connoisseurs and home-owners alike!
Take your pick!
Take a look at the carpet collections from Iwan Maktabi: www.iwanmaktabi.com
All photographs courtesy: Iwan Maktabi