The House of Luxury: Award-winning home interiors by Bishop Design
If there was a space that evoked luxury, contemporary chic and glamour all in one breath, then this Emirates Hill private villa would be it! Designed by the award-winning interior design power house lead by celebrated Dubai-based interior designer Ellen Bishop, this private residence is every bit elegant as it is dramatic.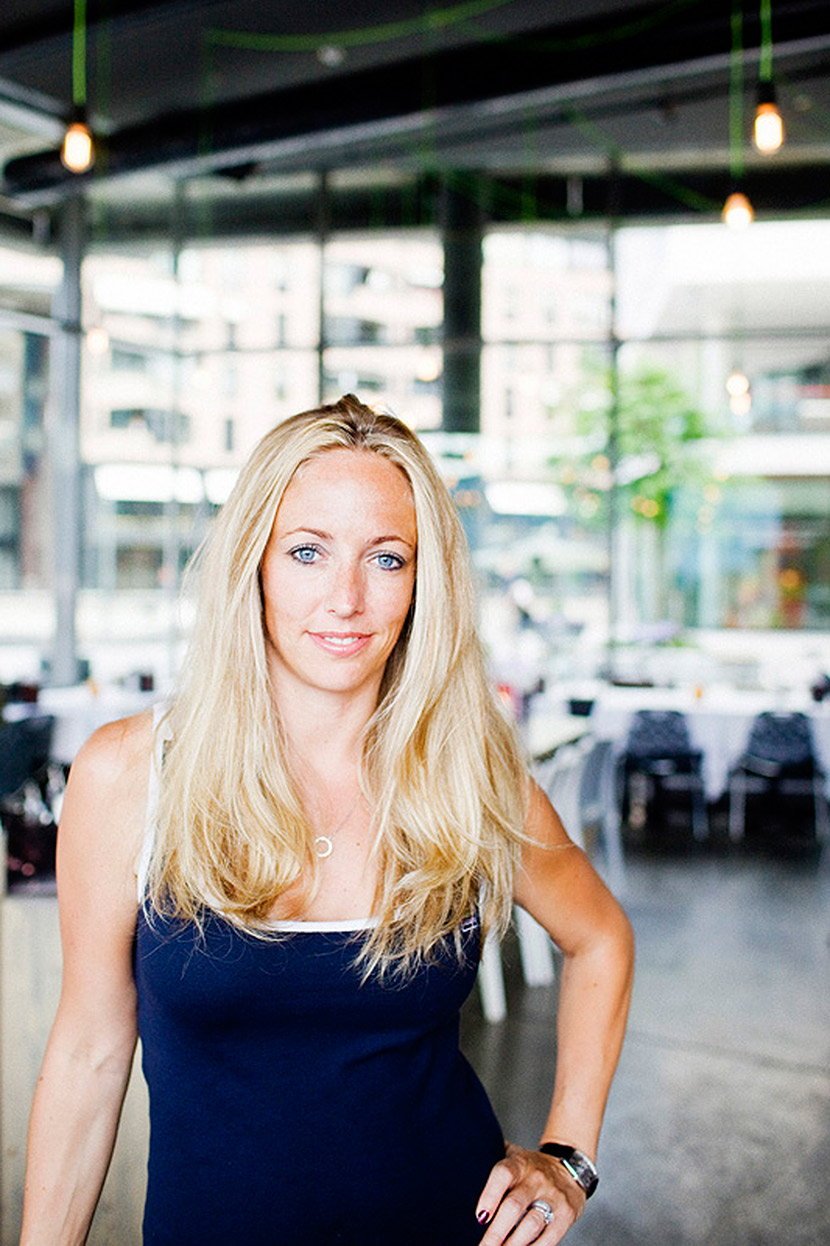 It is no wonder why, the residence also bagged two prestigious awards for the World's Best Interior Design for a Private residence and the Best Interior Design Private Residence Arabia at the International Property Awards
2014-2015.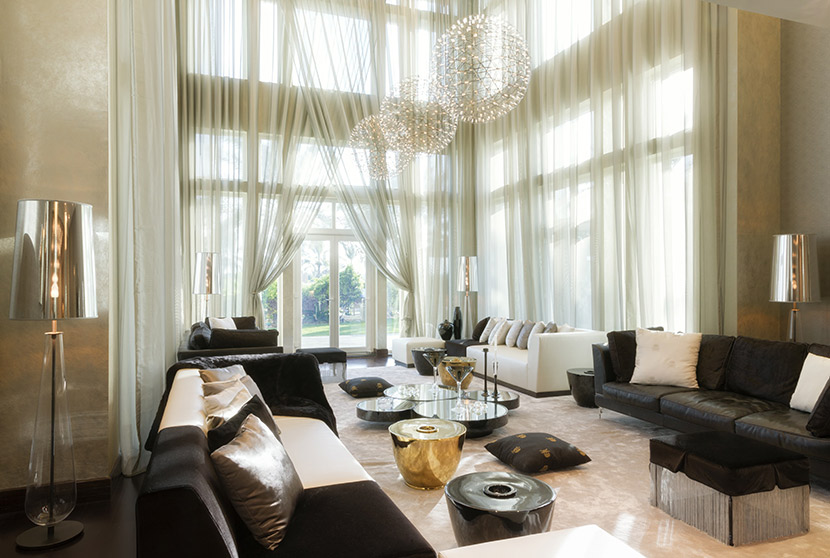 Located in the most exclusive neighbourhood in Dubai — the Emirates Hills — the home is sprawled over a 2,923sqmtr plot with a total built-up area of 1,391 sqmtr. The scope of works entailed complete renovation including design and layout changes, elevating the space aesthetically without losing out on practicality.
Ellen & her team were commissioned the project with exactly two months in hand to get everything ready and in time for their client's 40th birthday party celebrations. The space had to work not only for everyday living, but largely also for entertaining.
Speaking about the philosophy behind the design of this residence Ellen says, "The idea was to create a contemporary, avant garde and sophisticated environment that was dynamic yet comfortable. We've designed the interiors, both spatially and aesthetically, incorporating interior architectural remodelling and landscaping."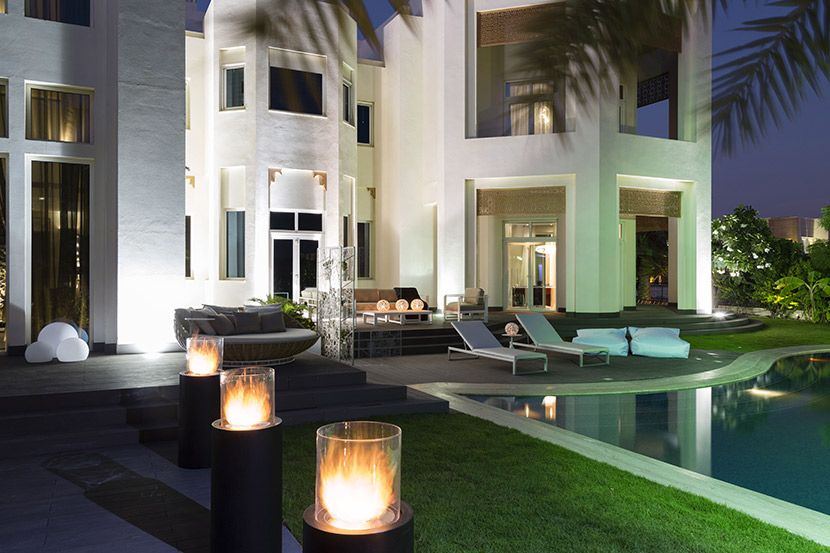 To achieve the desired ambience, Ellen and her team went with a colour palette and a selection of materials that conveyed openness, in synergy with the spectacular views of the garden and lake. What's more, changes were made to the layout to ensure that every corner in the property had practical utility and doubled up as suitable spaces for entertaining, particularly the bar, game room and living areas.
The living area coupled with the entrance space looks elegant and open. The design is classy yet dramatic thanks to the oversized floor lamps, Fendi sofas, ceramic Ligne Roset side tables and some of Ellen's own designer pieces like the poufs, coffee tables, black and white sofas,etc. But, it's the three oversized round Raimond lights from Mooi that serve as pure statement pieces in this space.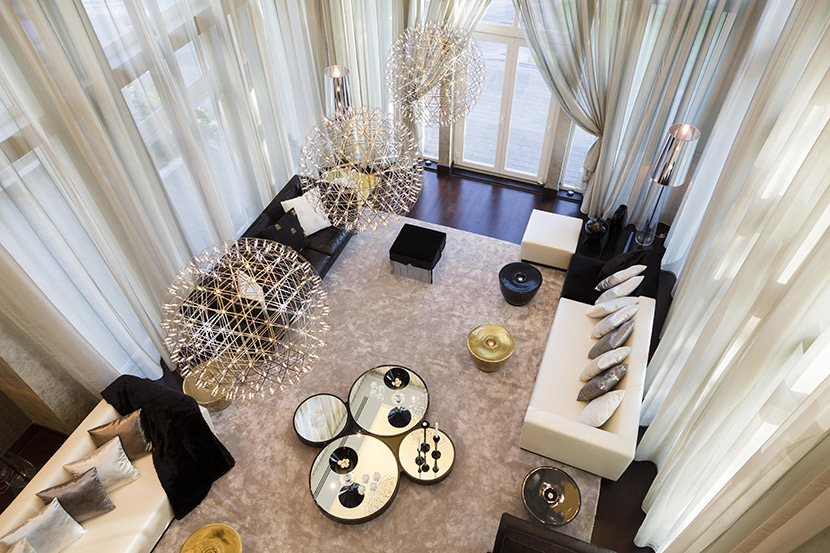 The overall palette is neutral, with different shades of cream, black and hints of other subtle colours dominating the home. "We worked on creating exciting elements, contrasts and accents using different textures, design solutions and materials, as opposed to following the traditional approach of strong colour accents," adds Ellen.
The dining area is cosy and intimate thanks to a custom-designed mirror wall panel that accommodates a slim automatic burner to create room for a fireplace. I love the other elements in this room as well. For instance, the textured wallpapers, crystal chandelier and the classic Fendi dining table and chairs set that takes plush living to an all-new level.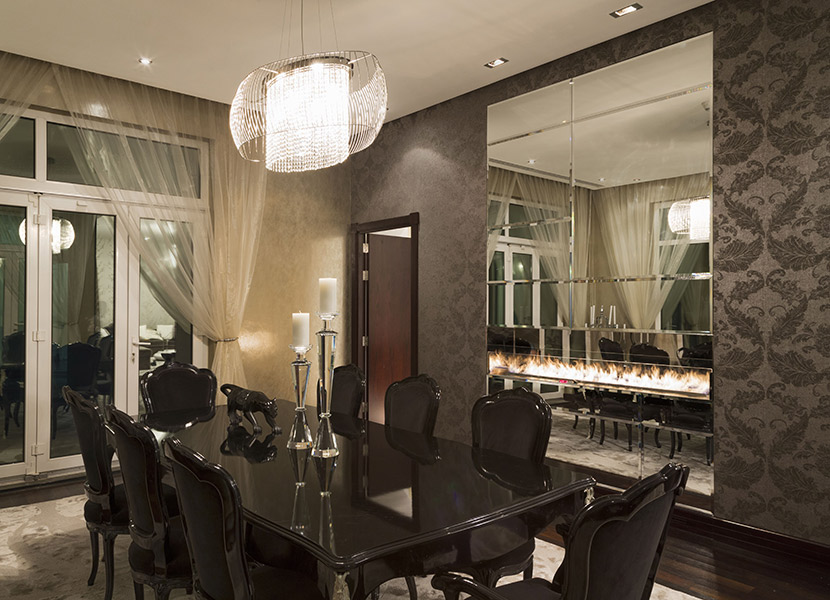 The bar and game room are however in sharp contrast to the neutral hues in the rest of the home. This space is drowned in black and darker hues. The black velvet wallpaper here is unexpected, while the Swarovski crystal lights illuminate the area to reinforce a luxurious look and feel.
As for the master bedroom, it has been divided to include an informal work area, a relaxed seating space and the bed. The wallpaper is textured and the headboard is velvet to bring in hints of royalty and opulence, without seeming over the top.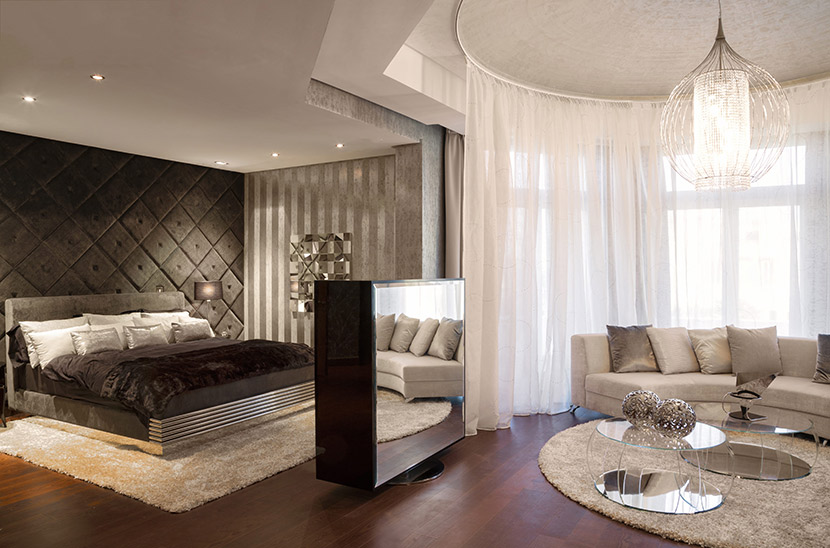 Overall, the Ellen and her team have worked with numerous key materials like 3-dimensional wall coverings, silk wallpapers, custom-designed mirrors, crystal-inspired wall coverings, plush silken rugs, wooden floors combined with marble, chrome and gold-plated furniture, for this award-winning space. The resultant effect is a home that is not only elegant and sophisticated, but every bit dramatic and edgy.
I'm looking forward to more projects from this design powerhouse. This one's an absolute stunner, wouldn't you agree?
For more works by Bishop Designs, visit: www.bishopdesignme.com
All photographs by: Duncan Chard, unless otherwise stated
Photographs courtesy: Bishop Design