In conversation with Interior Architect Sneha Divias
Dubai-based Sneha Divias is currently making waves in the Middle East, and here's why…. She is CID's Interior Designer of the Year 2017 and has won the International Property Award for her stunning Burj Daman project. Sneha and her team were also finalists at the Index Design Awards and shortlisted for the SBID Awards. Today that has meant that her boutique interior architecture and design studio, Sneha Divias Atelier, which is only in its first year of operation, has emerged as a force to reckon with.
Sneha's signature style uniquely blends elegance with understated luxury. Her designs are phenomenal and if anything, her work evokes pure awe. I caught up with the woman-of-the-hour in a freewheeling chat, and came away bowled over. Excerpts…
Kudos on your wins this year. Is this your best year yet?
It has been a great year given that the Atelier was also founded very recently. I am extremely happy, humbled and overwhelmed with the recognition of the Interior Designer of the Year. CID is such a prestigious platform and many talented peers were nominated. The triumph is also a celebration of the people I have worked with, who supported me in these projects – collaborators, suppliers, clients and consultants.
Your portfolio of work is so varied…residential interiors, retail, commercial interiors and hospitality. What is your favorite type of brief?
I don't have a fixed approach; I enter each project with an open mind. I like to give a personal interpretation to the briefing I receive. But there are key principles that form the basis of my work. For instance, I like to focus on the geometry of a project when space planning; creating scale and proportion to achieve a continuous flow. Balance comes from seamlessly integrating elements from architecture, interior, furniture to create layers that are speaking with each other in the same language. The details are the most important connectors that truly bring the substance of the project to life. So, whether it is a residential, hospitality, commercial or retail project, my approach and enthusiasm is always the same. What changes is the scale and the brief, but I am working with the same set of tools and skills.
What is the kind of design that really stirs your imagination?
I see potential in all sorts of projects. However, when a brief and concept is out of the box and challenging, it allows me to use my imagination and creativity at a higher level. Nurturing our creativity is fundamental to see the potential in spaces and then to come up with solutions that are functional and of aesthetic value.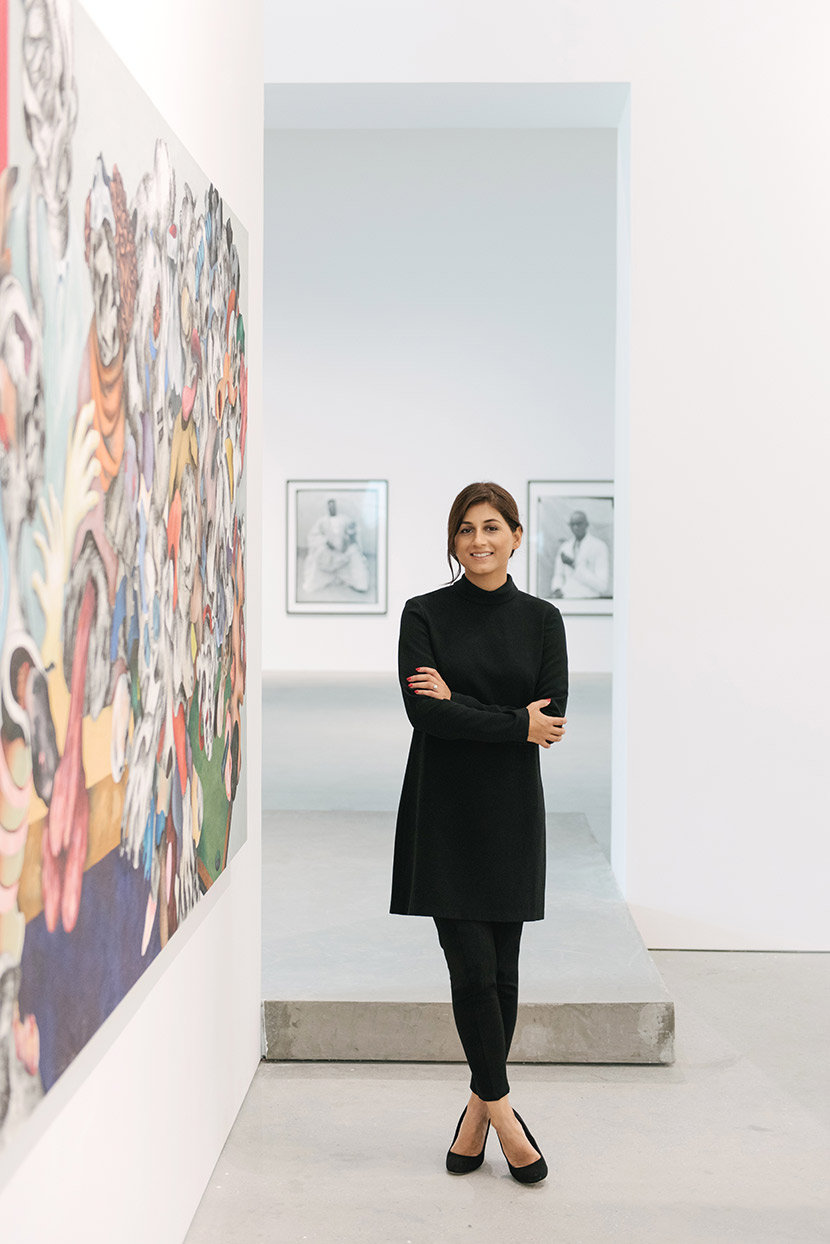 What's a typical day in the life of Sneha Divias?
The best thing about this job is that there is no typical day. Each day is so different with coordination meetings, showroom visits, client meetings, or just focused on the drawing board. I usually spend the mornings working on plans and conceptual work and only schedule meetings for the afternoons. I am an early riser, so am a lot more productive and inspired to work on spatial strategies during this time.
 Where do you turn to for creative inspiration?
 Travelling has always been my greatest form of inspiration – buildings, people, markets, nature. I keep a little sketch book with me at all times to jot down ideas whenever I see / read something interesting. Sometimes it's as simple as walking on the streets and being inspired by what I see and hear.
What materials/finishes do you love working with?
 The choice of materials is critical to the success of an interior. I love Volakas marble, which is a Greek marble and boasts of  a pure white background with charcoal, grey and taupe striations. The polished finish provides a beautiful, reflective surface that reveals the markings and colours wonderfully, blending in all types of interior compositions. I also use a lot of grey oak timber that comes with delicate ashen hues and a beautifully rough surface that evokes warmth. I also love working with metallic accents, as they make for amazing detail on joinery, handles, furniture and accessories. We created a feature wall in our Burj Daman project where the bronze mirror cladding in the dining area holds the artwork and reflects the statement chandelier.
 What trends in interior design do you see 2018 bringing?
I am of the opinion that trends are ephemeral, but I think next year we will see more objects and spaces using 3D printing. It is opening a world of possibilities and it will take custom interiors to a whole new level, leaving plenty of room for experimentation and creativity along the way. Sheikh Mohammed bin Rashid Al Maktoum inaugurated the world's first 3D printed office in 2016, which is a milestone combining technology and construction. Just like any creative process, 3D printing begins in the mind of a designer.  With cutting edge technology the designer's vision is translated into a solid object/built environment by adding materials, layer after layer, allowing the designer to control more complex shapes.
 What are some of the hallmarks of good design?
Great design is not solely about the outcome but the essence lies in the process. It is about the emotional resonance and impacts it has on its users. What matters is how design makes one feel, as well as how well it was delivered in terms of time and budget. Great design should be conceptualised to be timeless and respond to the context narrative.
 Your most prized possessions at home
Art, books, sketching pads, photographs…my bicycle.
 What is your most favorite project till date?
This may sound cliché but all of my projects are my absolute favourites. Regardless of scale, type of project, budget – the amount of effort and passion is always the same. That said, recently completed projects or projects nearing completion are something that I am always thrilled about. Our most recent project, OliOli, which is a children's museum and educational play space is about to open doors and is a fantastic project.
What are you currently working on?
 It's been a great year so far with a lot of interesting projects on the commercial and residential front. We have completed a retail project for Maska Wraps in Dubai Mall, executive offices for the new Dubai Holding headquarters in collaboration with Marie Laurent Architecture, an apartment in DIFC (which was a winner at the Arabian Property Awards) a villa in the Palm (which won the Residential category at CID awards) and a villa in Muscat. OliOli, which is an educational play space with interactive galleries for children is about to open and it was also highly commended for concept of the year at the CID awards. We are working on residential projects in Los Angeles, Dubai and Nairobi, and there are a few retail projects in the pipeline and a spa.
To discover more work by Sneha Divias, log on to: www.snehadivias.com
Portraits of Sneha: Courtesy of Sneha Divias Atelier